El manejo de los tejidos periodontales con láser.
Palabras clave:
periodontitis crónica, láseres periodoncia
Resumen
Se trata de evaluar el uso de los distintos tipos de láser utilizados en periodoncia. Para ello se ha realizado una revisión bibliográfica de los artículos publicados sobre el tema, el objetivo es presentar la evidencia científica que existe actualmente para justificar su aplicación en el tratamiento periodontal.
Descargas
Los datos de descargas todavía no están disponibles.
Citas
- Aoki A, Sasaki KM, Watanabe H, Ishikawa I. Lasers in nonsurgical periodontal therapy Periodontol 2000 2004; 36:59-97.
- Chen Y-J, Jeng J-H, Yao C-CJ, Chen M-H, Hou L-T, Lan W-H. Long-term effect of pulsed Nd: YAG laser irradiation on cultured human periodontal fibroblasts. Lasers Surg Med 2005; 36:225-233.
- Cobb CM. Non-surgical pocket therapy: Mechanical. Ann Periodontol 1996; 1:443-490.
- Crespi R, Barone A, Covani U, Ciaglia RN, Romanos GE. Effects of CO2 laser treatment on fibroblast attachment to root surfaces. A scanning electron microscopy analysis. J Periodontol 2002; 73:1308- 1312. J Periodontol • April 2006 Cobb 56.
- Crespi R, Covani U, Margarone JE, Andreana S. Periodontal tissue regeneration in Beagle dogs after laser therapy. Lasers Surg Med 1997; 21:395-402.
- Erikson RA, Albrektsson T. Temperature threshold levels for heat induced bone tissue injury: A vital microscopic study in the rabbit. J Prosthet Dent 1983; 50:101-107.
- Fontana CR, Kurachi C, Mendonca CR, Bagnato VS. Temperature variation at soft periodontal and rat bone tissues during a medium-power diode laser exposure. Photomed Laser Surg 2004; 22:519- 522.
- Gutknecht N, Radufi P, Franzen R, Lampert F. Reduction of specific microorganisms in periodontal pockets with the aid of an Nd: YAG laser – An in vivo study. J Oral Laser Appl 2002; 2:175-180.
- Maiman TH. Stimulated optical radiation in ruby. Nature 1960; 187:493-494Ç.
- McDavid VG, Cobb CM, Rapley JW, Glaros AG, Spencer P. Laser irradiation of bone: III. Long- term healing following treatment by CO2 and Nd: YAG lasers. J Periodontol 2001; 72:174-182.
- Midda M. Lasers in periodontics. Periodontal Clin Investig 1992; 14:14-20.
- Myers TD, Myers WD. In vivo caries removal utilizing the YAG laser. J Mich Dent Assoc 1985; 67:
- Pant V, Dixit J, Agrawal AK, Seth PK, Pant AB. Behavior of human periodontal ligament cells on CO2 laser irradiated dental root surfaces: An in vitro study. J Periodontal Res 2004; 39:373-379.
- Romanos G, Chong HS, Ng K, Toh CG. A preliminary study of healing of superpulsed carbon dioxide laser incisions in the hard palate of monkeys. Lasers Surg Med 1999; 24:368-374.
- Romanos GE, Pelekanos S, Strub JR. A comparative histologic study of wound healing following Nd: YAG laser with different energy parameters and conventional surgical incision in rat skin. J Clin Laser Med Surg 1995; 13:11-16.
- Sasaki KM, Aoki A, Ichinose S, Ishikawa I. Ultrastructural analysis of bone tissue irradiated by Er: YAG laser. Lasers Surg Med 2002; 31:322-332.
- Schwarz F, Aoki A, Sculean A, Georg T, Scherbaum W, Becker J. In vivo effects of an Er: YAG laser, and ultrasonic system and scaling and root planing on the biocompatibility of periodontally diseased root surfaces in cultures of human PDL fibroblasts. Lasers Surg Med 2003; 33:140-147
- Spencer P, Trylovich DJ, Cobb CM. Chemical characterization of lased root surfaces using Fourier transform infrared photoacoustic spectroscopy. J Periodontol 1992; 63:633-636.
- Wang X, Zhang C, Matsuomoto K. In vivo study of the healing processes that occur in the jaws of rabbits following perforation by an Er, Cr: YSGG laser. Lasers Med Sci 2005; 20:21-27.
- Williams TM, Cobb CM, Rapley JW, Killoy WJ. Histologic evaluation of alveolar bone following CO2 laser removal of connective Tissue from periodontal defects. Int J Periodontics Restorative Dent 1995; 15:497-506.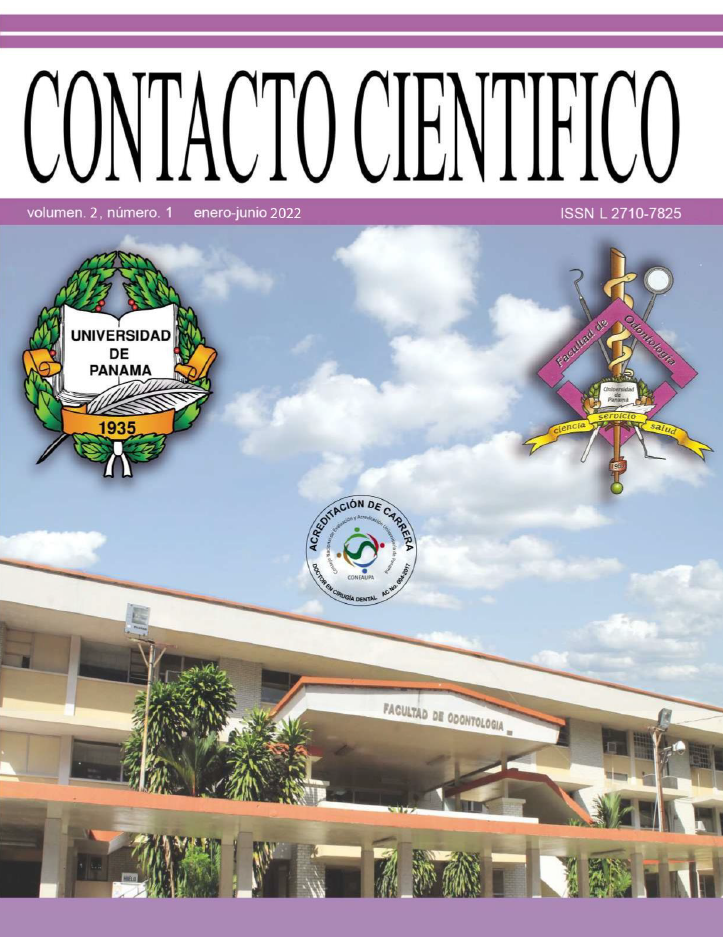 Descargas
Cómo citar
Colucci , I. (2022). El manejo de los tejidos periodontales con láser. Contacto Científico, 2(1), 50–59. Recuperado a partir de https://revistas.up.ac.pa/index.php/contacto_cientifico/article/view/3280
Sección
Revisión bibliográfica
Licencia

Este obra está bajo una licencia de Creative Commons Reconocimiento-NoComercial-CompartirIgual 4.0 Internacional.