Biotipo Periodontal:
Relación Orto-Perio.
Palabras clave:
Biotipo gingival, grosor de encía, Biotipo Periodontal, tabla ósea bucal, recesión
Resumen
La presente revisión bibliográfica se realizó en 22 artículos que de forma general tuvieran alguna relación con el tópico de biotipo periodontal, aspectos ortodónticos y también literatura para comprender el concepto de biotipo y aspectos de la relación interdisciplinaria que hay entre ambas disciplinas de la odontología.
La literatura requiere más estudios aleatorios controlados y prospectivos, que posean un diseño que permita evaluar variables en poblaciones similares en un tema que lleva décadas siendo estudiado, pero en el cual a la fecha no hay un consenso definido, pero si recomendaciones dadas por AAO y AAP, que pueden dar luces en mejores manejos para evitar afectaciones periodontales en pacientes que se someten a tratamientos ortodónticos.
Descargas
Los datos de descargas todavía no están disponibles.
Citas
Zweers, J., Thomas, R. Z., Slot, D. E., Weisgold, A. S., & Van der Weijden, F. G. A. (2014). Characteristics of periodontal biotype, its dimensions, associations and prevalence: a systematic review. Journal of Clinical Periodontology, 41(10), 958– 971.
Fu, J.-H., Yeh, C.-Y., Chan, H.-L., Tatarakis, N., Leong, D. J. M., & Wang, H.-L. (2010). Tissue Biotype and Its Relation to the Underlying Bone Morphology. Journal of Periodontology, 81(4), 569–574.
Manjunath RGS, Rana A, Sarkar A. Gingival biotype assessment in a healthy periodontium: transgingival probing method. J Clin Diagn Res. 2015;9(5):ZC66-9. doi: 10.7860/JCDR/2015/13759.5956
Kloukos, D., Koukos, G., Gkantidis, N., Sculean, A., Katsaros, C., & Stavropoulos,
A. (2021). Transgingival probing: a clinical gold standard for assessing gingival thickness. Quintessence international, 52(5), 394-401.
Frost, N. A., Mealey, B. L., Jones, A. A., & Huynh-Ba, G. (2015). Periodontal Biotype: Gingival Thickness as It Relates to Probe Visibility and Buccal Plate Thickness. Journal of Periodontology, 86(10), 1141–1149
Kim, David & Bassir, Seyed & Nguyen, Thomas. (2019). Effect of gingival phenotype on the maintenance of periodontal health: An American Academy of Periodontology Best Evidence Review. Journal of Periodontology. 91. 10.1002/jper.19-0337.
D'Silva, E., Fraser, D., Wang, B., Barmak, A. B., Caton, J., & Tsigarida, A. (2019). The association between gingival recession and buccal bone at maxillary anterior teeth. Journal of Periodontology. doi:10.1002/jper.19-0375
Zerón, A. (2011). Biotipos, fenotipos y genotipos. ¿Qué biotipo tenemos? (Segunda parte). Revista mexicana de Periodoncia, VOl 2, Num 1, ene2011, p22-33
Lo Russo L, Zhurakivska K, Montaruli G, Salamini A, Gallo C, Troiano G, Ciavarella
D. Effects of crown movement on periodontal biotype: a digital analysis. Odontology. 2018 Oct;106(4):414-421. doi: 10.1007/s10266-018-0370-5. Epub 2018 Jun 12. PMID: 29948490.
Joss-Vassalli, I., Grebenstein, C., Topouzelis, N., Sculean, A., & Katsaros, C. (2010). Orthodontic therapy and gingival recession: a systematic review. Orthodontics & Craniofacial Research, 13(3), 127–141. doi:10.1111/j.1601- 6343.2010.01491.x
Robert L. Vanarsdall, Jr., Ignacio Blasi, Jr., and Antonino G. Secchi (2017), Periodontal–Orthodontic Interrelationships, In book: Orthodontics: Current Principles and Techniques (pp.621-68) Edition: 6th, Chapter: 22, p621-668
Rasperini, Giulio & Acunzo, Raffaele & Cannalire, Paola & Farronato, Giampietro. (2015). Influence of Periodontal Biotype on Root Surface Exposure During Orthodontic Treatment: A Preliminary Study. The International journal of periodontics & restorative , Vol 35, Nº5, p665-675
Ji, J.-J., Li, X.-D., Fan, Q., Liu, X.-J., Yao, S., Zhou, Z., Shen, Y. (2018). Prevalence of gingival recession after orthodontic treatment of infraversion and open bite. Journal of Orofacial Orthopedics.
Joss-Vassalli I, Grebenstein C, TOpouzelis N, Sculean A, Katsaros C., Orthodontic therapy and gingivla recession: a Systematic review. Orthod Craniofac Res. Vol 13, 2010; 13:127-141
Jati, A. S., Furquim, L. Z., & Consolaro, A. (2016). Gingival recession: its causes and types, and the importance of orthodontic treatment. Dental Press Journal of Orthodontics, 21(3), 18–29.
Handelman CS, The anterior alveolus: its importance in limiting orthodontic treatment and its influence on the occurrence of iatrogenic sequelae. Angle Orthod. 1996; 66 (2):95-109
Rajapakse PS, McCracken GI, Gwynnett E, Steen ND, Guentsch A, Heasman PA. Does tooth brushing influence the development and progression of non-inflammatory gingival recession? A systematic review. J Clin Periodontol. 2007 Dec;34(12):1046- 61.
Sadowsky, C., & BeGole, E. A. (1981). Long-term effects of orthodontic treatment on periodontal health. American Journal of Orthodontics, 80(2), 156–172.
Bollen AM, Cunha-Cruz J, Bakko DW, Huang GJ, Hujoel PP. The effects of orthodontic therapy on periodontal health: a systematic review of controlled evidence. J Am Dent Assoc. 2008 Apr;139(4):413-22.
Brown, I. S. (1973). The Effect of Orthodontic Therapy on Certain Types of Periodontal Defects I—Clinical Findings. Journal of Periodontology, 44(12), 742– 756.
Papageorgiou SN, Antonoglou GN, Michelogiannakis D, Kakali L, Eliades T, Madianos
P. Effect of periodontal-orthodontic treatment of teeth with pathological tooth flaring, drifting, and elongation in patients with severe periodontitis: A systematic review with meta-analysis. J Clin Periodontol. 2021 Jul, p1-19.
Wang CW, Yu SH, Mandelaris GA, Wang HL. Is periodontal phenotype modification therapy beneficial for patients receiving orthodontic treatment? An American Academy of Periodontology best evidence review. J Periodontol. 2020 Mar;91(3):299-310.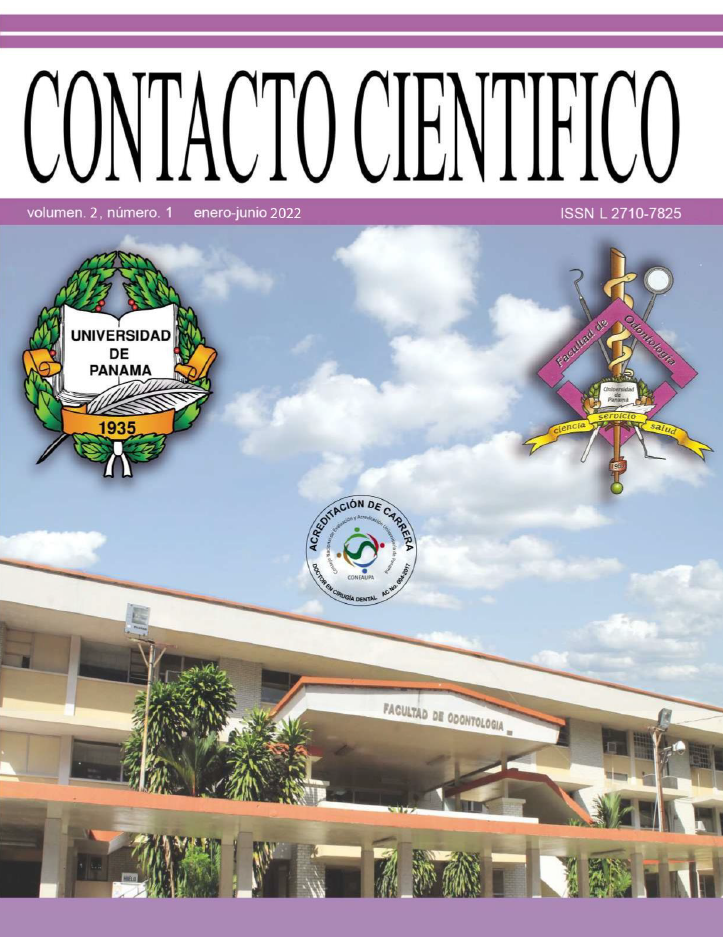 Descargas
Cómo citar
Morales. , G. I. (2022). Biotipo Periodontal: : Relación Orto-Perio. Contacto Científico, 2(1), 30–40. Recuperado a partir de https://revistas.up.ac.pa/index.php/contacto_cientifico/article/view/3278
Sección
Revisión bibliográfica
Licencia

Este obra está bajo una licencia de Creative Commons Reconocimiento-NoComercial-CompartirIgual 4.0 Internacional.