Comunicación y manejo interdisciplinario entre especialistas de la Ortodoncia-Periodoncia.
Palabras clave:
Ortodoncia, Periodoncia, manejo interdisciplinario, comunicación, tratamiento
Resumen
La comunicación y el abordaje interdisciplinario entre especialistas, requiere un manejo muy meticuloso. No debemos limitarnos a la visión de una sola especialidad para lograr nuestro objetivo. Las relaciones entre profesionales especialistas y entre doctor y paciente deben demostrar una sensibilidad que incluya la voluntad de comunicarse, la capacidad de escuchar, y un respeto mutuo entre los profesionales. La naturaleza compleja de los problemas dentofaciales requiere un método de comunicación altamente organizado entre los miembros del equipo para que todos los aspectos del tratamiento puedan expresarse por igual. Es a través de esta comunicación que se puede formular un plan de tratamiento interdisciplinario antes de generar una carta de tratamiento conjunta. Habitualmente, el abordaje interdisciplinario conduce a un óptimo manejo cualitativo, funcional y estético, brindando el mejor plan de tratamiento en situaciones clínicas complejas.
Descargas
Los datos de descargas todavía no están disponibles.
Citas
Abdelkarim A, Jerrold L. Strategies for improved interdisciplinary care and communication in orthodontics. Am J Orthod Dentofacial Orthop. 2017 Nov;152(5):717-721. doi: 10.1016/j.ajodo.2017.08.001. PMID: 29103450.
Laurance Jerrold, Speaking for another, American Journal of Orthodontics and Dentofacial Orthopedics, Volume 144, Issue 5, 2013, Pages 777-778
Kokich VG. Don't start without the charting. Am J Orthod Dentofacial Orthop. 2011 Apr;139(4 Suppl):S14. doi: 10.1016/j.ajodo.2011.01.006. PMID: 21435532.
Mizrahi, E. Risk management in clinical practice. Part 7. Dento-legal aspects of orthodontic practice. Br Dent J 209, 381–390 (2010).
Segovia Palma, P., Pinos Robalino, P., & Murillo Sevillano, I. (2017). La interdisciplinariedad para el perfeccionamiento del proceso de enseñanza aprendizaje en la carrera de Odontología. Revista Conrado, 13(57), 82-90.
Brustein DD, Rauschart EA. A comparative study on the relationship between the specialist and the referring dentist. J Periodontol. 1971 May;42(5):306-8. doi: 10.1902/jop.1971.42.5.306. PMID: 5280504.
Grillo Reyes Giselle, Díaz Juan Carlos Pérez, Hernández Gutiérrez Daymi. Relación orto-periodontal. Medicentro Electrónica [Internet]. Junio de 2020; 24 (2): 444-451. Disponible en:http://scielo.sld.cu/scielo.php?script=sci_arttext&pid=S10293043202000020044 4&lng=en. Publicación electrónica 01-abr-2020.
Sanders NL. Evidence-based care in orthodontics and periodontics: a review of the literature. J Am Dent Assoc. 1999 Apr;130(4):521-7. doi: 10.14219/jada.archive.1999.0246. PMID: 10203902.
Boyd RL. Periodontal screening examination guide. In: American Association of Orthodontists risk management program. St. Louis: American Association of Orthodontists; 1992:13.
Gkantidis N, Christou P, Topouzelis N. The orthodontic-periodontic interrelationship in integrated treatment challenges: a systematic review. J Oral Rehabil. 2010 May 1;37(5):377-90. doi: 10.1111/j.1365-2842.2010.02068.x. Epub 2010 Feb 25. PMID: 20202098.
Alexander SA. Effects of orthodontic attachments on the gingival health of permanent second molars. Am J Orthod Dentofacial Orthop. 1991 Oct;100(4):337-40. doi: 10.1016/0889-5406(91)70071-4. PMID: 1927984.
Erkan M, Pikdoken L, Usumez S. Gingival response to mandibular incisor intrusion. Am J Orthod Dentofacial Orthop. 2007;132:143. e9–13.
. Ari-Demirkaya A, Ilhan I. Effects of relapse forces on periodontal status of mandibular incisors following orthognathic surgery. J Periodontol. 2008;79:2069– 2077.
Sallum EJ, Nouer DF, Klein MI, Gonçalves RB, Machion L, Wilson Sallum A, Sallum EA. Clinical and microbiologic changes after removal of orthodontic appliances. Am J Orthod Dentofacial Orthop. 2004 Sep;126(3):363-6. doi: 10.1016/j.ajodo.2004.04.017. PMID: 15356501.
Thornberg MJ, Riolo CS, Bayirli B, Riolo ML, Van Tubergen EA, Kulbersh R. Periodontal pathogen levels in adolescents before, during, and after fixed orthodontic appliance therapy. Am J Orthod Dentofacial Orthop. 2009 Jan;135(1):95-8. doi: 10.1016/j.ajodo.2007.02.057. PMID: 19121507.
Re S, Corrente G, Abundo R, Cardaropoli D. Orthodontic treatment in periodontally compromised patients: 12-year report. Int J Periodontics Restorative Dent. 2000 Feb;20(1):31-9. PMID: 11203546.
Melsen B. Limitations in adult orthodontics. In: Melsen B, ed. Current controversies in orthodontics. Chicago: Quintessence, 1991:147–180.
van Gastel J, Quirynen M, Teughels W, Coucke W, Carels C. Influence of bracket design on microbial and periodontal parameters in vivo. J Clin Periodontol. 2007 May;34(5):423-31. doi: 10.1111/j.1600-051X.2007.01070.x. PMID: 17448045.
Roblee R D. Interdisciplinary dentofacial therapy. A comprehensive approach to optimal patient care. pp 17-43. Chicago, IL: Quintessence Publishing, 1994
Jivraj SA, Corrado P, Chee WW. An interdisciplinary approach to treatment planning in implant dentistry. J Calif Dent Assoc. 2005 Apr;33(4):293-300. PMID: 15915880.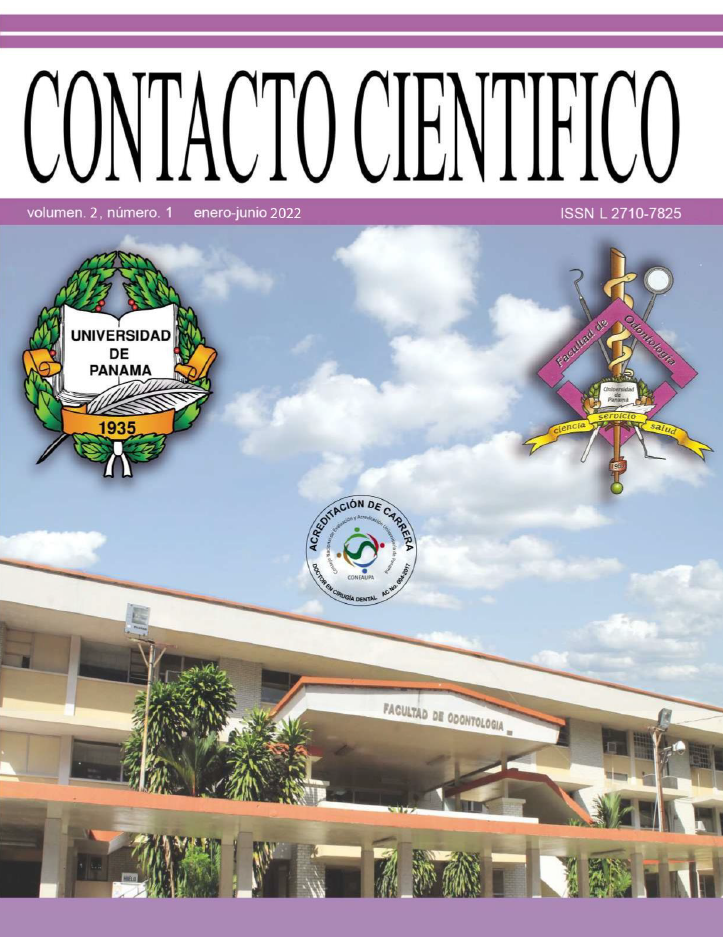 Descargas
Cómo citar
Vega Correa , S. (2022). Comunicación y manejo interdisciplinario entre especialistas de la Ortodoncia-Periodoncia. Contacto Científico, 2(1), 41–49. Recuperado a partir de https://revistas.up.ac.pa/index.php/contacto_cientifico/article/view/3279
Sección
Revisión bibliográfica
Licencia

Este obra está bajo una licencia de Creative Commons Reconocimiento-NoComercial-CompartirIgual 4.0 Internacional.