ES QUE YO NO ESTOY AHÍ"… LA CONSTRUCCIÓN DE SENTIDO EN EL TRATAMIENTO DE UN NIÑO AUTISTA
Palabras clave:
autismo, transferencia, proceso psicoanalítico, construcción psíquica, identificación pro-yectiva
Resumen
Con Guille, un niño autista, se explica los dos tiempos que considero indispensables para el posible tratamiento de esta condición. Guille carecía de un lugar dentro del esquema de relaciones simbólicas de la familia, se encontraba en un no lugar. La primera parte del proceso consistió en construir un lugar posible para Guille dentro de la familia: fue una paradoja que ese lugar fue dado a través de un diagnóstico que, lejos de congelarlo en una categoría, permitió a la familia empezar a verlo. Una vez establecido este lugar, la segunda parte del trabajo consistió en dar cuenta de los procesos de identificación que desarrollaba Guille durante las sesiones. Paulatinamente, y marcando las diferencias, posibilitó el funcionamiento de la identificación proyectiva, la creación de un espacio interior donde se metabolizara los objetos internos. Los primeros objetos que Guille introyecta son el analista y a los objetos internos que representaban al dispositivo, como prefiguración de la pareja parental, lo que permitió que se creara la posibilidad de interpretar, darle significado, a las estereotipias motoras que Guille estaba realizando y que eran considerados meros automatismos fisiológicos. La introyección de la pareja analítica hizo posible darle un sentido humano a lo que era mera descarga.
Descargas
Los datos de descargas todavía no están disponibles.
Citas
Alvarez A. & Reid S. (1999), Autism and personality: Findings from Tavistock Autism Workshop, London: Routledge
American Psychiatric Association (2014), DSM-5, Madrid:Editorial Panamericana
Aron L. (1995), The internalized primal scene, Psychoanalytic Dialogues, 5
Aron L. (2006), Analytic impasse and the third, International Journal of Psychoanalysis, 87
Augé, M. (1993). Los no lugares: espacios del anonimato: antropología sobre modernidad. Barcelona: Gedisa
Baranger, M & Baranger W. (2008), The analytic situation as a dynamic field, Interna-tional Journal of Psychoanalysis, 89
Baron-Cohen, S. (2008). Autismo y síndrome de Asperger; España: Alianza Editorial
Benjamin, J (2004), Beyond doer and done to: An intersubjective view of thirdness, Psychoanalytic Quarterly, 73
Benjamin, J (2009), A relational psychoanalysis perspective on the necessity of ac-knowledging failure in order to restore the facilitating and containing features of the intersubjective relationship (the shared third), Int J Psychoanal., 90:441–450
Benvenuto, S. (2019). Autism: A Battle Lost by Psychoanalysis, DIVISION/Review, 19:26-32
Bick, E (2005), The experience of the skin in early object-relations, en Spillius, E., Melanie Klein Today (Vol. 1), London: Routledge
Bion, W. (1962). Learning from experience. London: Heinemann.
Bion, W. R. (1996), Volviendo a pensar, Buenos Aires: Lumen
Bisagni, F. (2012), Delusional development in child autism at the onset of puberty: vicissitudes of psychic dimensionality between disintegration and development, Int. J. Psycho-Anal., 93(3):667-692
Bleger, J. (1984), Simbiosis y ambiguedad, Buenos Aires: Paidós
Britton, R. (1988). The missing link: parental sexuality in the Oedipus complex. En The Contemporary Kleinians of London, ed. R. Schafer. Madison, CT: Int. Univ. Press, 1997, pp. 242-258.
Britton, R. (1998). Belief and Imagination. London/New York: Routledge.
Brown, L. (2010) Klein, Bion, and Intersubjectivity: Becoming, Transforming, and Dreaming, Psychoanalytic Dialogues: The International Journal of Relational Perspec-tives, 20:6, 669-682
Brown L. (2011), Intersubjective Process and the Unconscious, London: Routledge
Brown L. (2015) Ruptures in the Analytic Setting and Disturbances in the Transrorma-tional Field of Dreams. Psychoanal Q. 2015 Oct;84(4):841-65
Civitarese, G. (2005). Fire at the theatre. Int. J. Psycho-Anal., 86:1299- 1316
Emanuel, Ch.(2015) An Accidental Pokemon Expert: Contemporary Psychoanalysis on the Autism Spectrum, International Journal of Psychoanalytic Self Psychology, 10:1, 53-68
Ferro, A. (1993), From Hallucination to Dream: From Evacuation to the Tolerability of
Pain in the Analysis of a Preadolescent, Psychoanalytic Review, 80(3):389-404
Ferro, A. (1999), The Bi-Personal Field, London: Routledge
Ferro, A. (2008). The Patient as the Analyst's Best Colleague: Transformation into a Dream and Narrative Transformations. Ital. Psychoanal. Annu., 2:199-205
Ferro, A. (2009). Transformations in dreaming and characters in the psychoanalytic field, Int J Psychoanal., 90:209–230
Ferro A. & Basile R. (2009), The Analytic Field, London: Karnac Books
Habermas, J. (1999). Teoría de la acción comunicativa, España: Taurus
Klein, M. (1987), El psicoanálisis de niños, en Obras completas 2, Barcelona: Paidós
Klein, M. (1990), Estadios tempranos del conflicto edípico, en Obras completas 1, Bar-celona: Paidós
Klein, M.(1990), Contribución a la psicogénesis de los estados maniaco-depresivos, en Obras completas 1, Barcelona: Paidós
Klein, M. (1990), El complejo de Edipo a la luz de las ansiedades tempranas, en Obras completas 1, Barcelona: Paidós
Lombardi, R. (2008). The body in the analytic session: Focusing on the body-
mind link. Int. J. Psycho-Anal., 89:89–109.
Meltzer, D. (1996), El proceso psicoanalítico, Buenos Aires:Lumen
Meltzer, D. (1998), The Kleinian Development, Exeter: Karnac Books
Meltzer D (1975). Dimensionality in mental functioning. En: Meltzer D, et al., editors. Explorations in autism, 223–38. London: Karnac.Maleval, J. C., (2010), Autismo, enunciación y alucinaciones, Interrogant, 10: 49-59, consultado en https://revistainterrogant.org/autismo-enunciacion-y-alucinaciones/
Molinari, E (2020), Intimacy and Autism: An Apparent Paradox, The Psychoanalytic Quarterly, 89:3, 483-502,
Nardi, M. (2017). Trying to Breathe When There is No More Oxygen. Psychoanalysis and Autism. Ital. Psychoanal. Annu., 11:137-147
Nissen, B. (2017), "Emotional" storms in autistoid dynamics, en Engaging Primitive Anxieties of the Emerging Self. The Legacy of Frances Tustin. London: Karnac Books.
Power, D, Levine, H, (eds), (2017). Engaging Primitive Anxieties of the Emerging Self. The Legacy of Frances Tustin. London: Karnac Books.
Ogden, T. H. (1994). The Analytic Third: Working with Intersubjective Clinical Facts. International Journal of Psycho-Analysis 75: 3-19
Ogden, T. (1989), The Primitive Edge of Experience, New jersey: Jason Aronson Inc
Ogden, T. (2005), On psychoanalytic supervisión, International Journal of Psychoanaly-sis, 86
Pérez de Plá, E. (2000), El sujeto, el cuerpo y el otro en Sujeto, inclusión y diferencia, México: Universidad Autónoma Metropolitana
Roitman, Y. (2020). On intersubjective aspects of autism. The 'lightduress' of human contact. J. Child Psychother., 46(2):241-254
Segal, H (2005), "Notes on symbol formation" en en Spillius, E., Melanie Klein Today (Vol. 1), London: Routledge
Tustin, F. (1986), Autistic barriers in neurotic patients, London: Karnac Books
Tustin, F. (1990.)El cascarón protector en niños y adultos, Buenos Aires: Amorrortu
Wing L, Gould J. Systematic recording of behaviors and skills of retarded and psychotic children. J Autism Child Schizophr. 1978;8:79-97
Winnicott, D. W. (1960), The theory of the parent-infant relationship en The Maturatio-nal Processes and the Facilitating Environment New York: Int. Univ. Press, 1965 pp. 37-55
Winnicott, D. W.(1996), Realidad y juego, Buenos Aires: Gedisa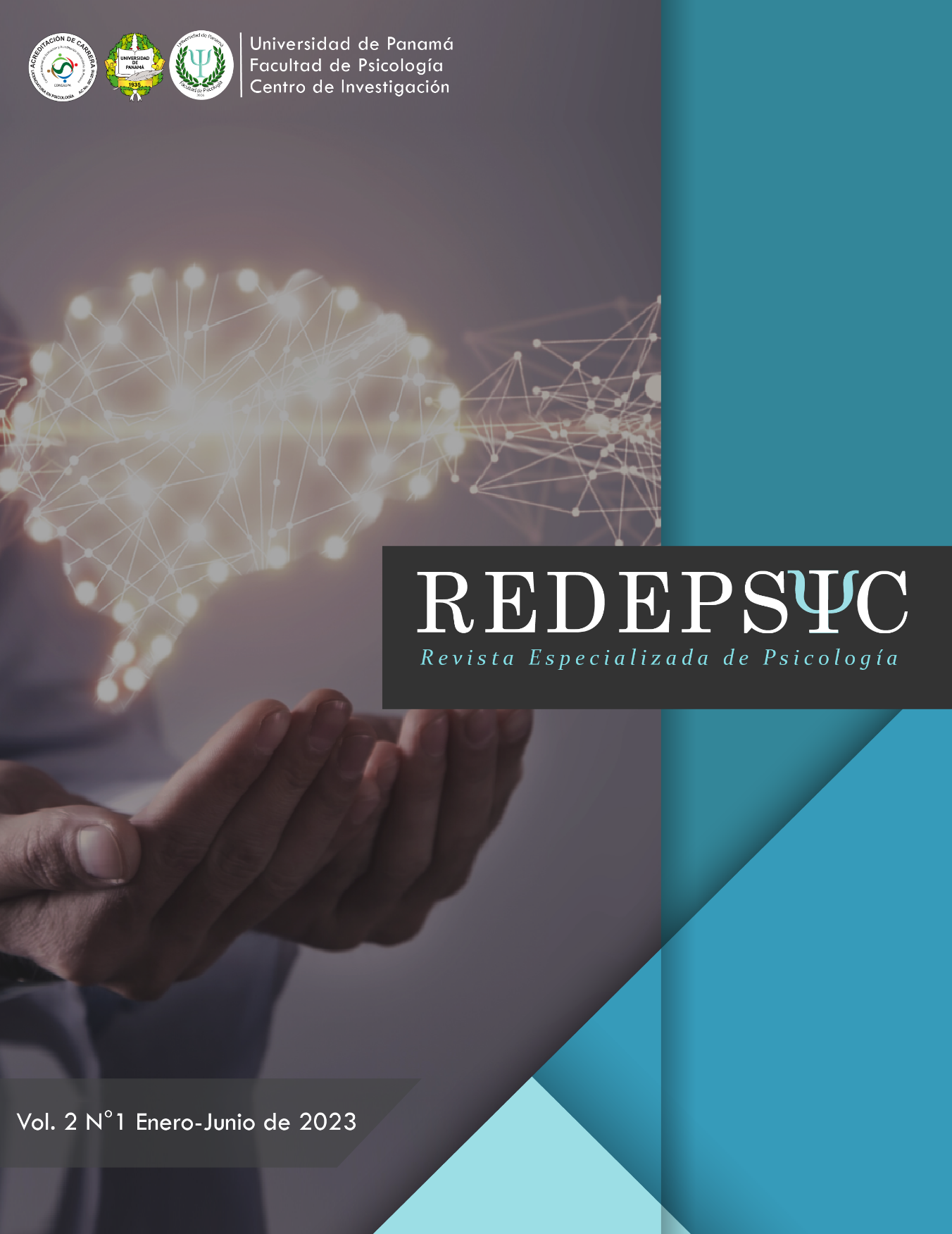 Descargas
Cómo citar
Beltrán, A. (2023). ES QUE YO NO ESTOY AHÍ"… LA CONSTRUCCIÓN DE SENTIDO EN EL TRATAMIENTO DE UN NIÑO AUTISTA. REDEPSIC, 2(1), 40–72. Recuperado a partir de https://revistas.up.ac.pa/index.php/redepsic/article/view/3365