LIDERAZGOS, CULTURA Y VALORES EN LAS UNIVERSIDADES
Palabras clave:
red cultural, GLOBE, RSC, transformación digital, valoresliderazgo
Resumen
En un escenario de numeroso cambios, económicos, sociales, políticos, tecnológicos y de globalización en que se encuentran las instituciones de educación superior, el liderazgo es necesario para comprender y dirigir el cambio de las universidades hacia la excelencia, para lo cual será necesario modificar la cultura corporativa con el fin de conseguir un liderazgo eficaz que motive a sus miembros para alcanzar la visión y el éxito de las organizaciones, hasta el punto de afirmase que la cultura y liderazgo son las caras de una misma moneda, y partiendo de esta hipótesis, la clave será la necesidad de un liderazgo transformador y con valores para el desarrollo de las personas y la sociedad.
Descargas
Los datos de descargas todavía no están disponibles.
Citas
Argandoña, A, (2016) "La misión de la empresa y la responsabilidad social", Cuadernos de la Cátedra "la Caixa "de Responsabilidad Social de la Empresa y Gobierno Corporativo, 29.
Aktouf, O, (2002) "El simbolismo y la cultura de la empresa; de los abusos conceptuales a las lecciones de campo", Ad-minister,1. Medellin:EAFIT.
Anzola, O.L, (2011) La cultura organizacional: Como elemento determinante de la personalidad de las organizaciones, Ed. Académica Española.
Bass, B.M, (1990) Bass y Stogdills Handbook of leadership: Theory, research and managerial applications, (3 Ed). New York: Free Press.
Bass, B.M. y Rivas, C, (2006) Liderazgo Transformacional. New Yersey Earbaum Associate.
Boyett, J y Boyett, J. (2000) Lo mejor de los gurus. Barcelona: Ed.Gestion.
Brown, A.W, (2019). Delivering Digital Transformation: A manager´s guide to the digital revolution. Ed. De Gruyter.
Brown, J.S y Duguit, P, (1991) "Organizational learning and communities of practice: Towards a unified view of working, learning and innovation", In Organization Science,vol 2, num 1, pp 40-57.
Bryman, A. (2007) Effective leadership in Higher Education, Research and development Series, Leadership Foundation for Higher Education. U.K.
Burns, J.M, (1978) Leadership, New York and London: Harper&Row. Cohen, W. (1990) The art of Leader, Engelwood Cliffs, N. Y: Prentice Hall.
Connors, R y Smith, T (2016) Cambie la cultura. Cambie el juego, Ed. Planeta.
Contreras, F. y Barbosa, D, (2013) "Del liderazgo transaccional al liderazgo transformacional: implicaciones para el cambio organizacional", Revista Virtual Universidad Católica del Norte, (39).
Contreras, F; Barbosa, D; Juárez, F y Uribe, A.F, (2010) "Efectos del liderazgo y del clima organizacional sobre el riesgo psicosocial como criterio de responsabilidad social en empresas colombianas del sector Salud", Revista Argentina de Clínica Psicológica XIX, 173-182.
Coronel, J, (2002) "La investigación sobre el liderazgo y procesos de cambio en Centros Educativos", Ed. Universidad de Huelva.
Covey, S.M y Merrill, R.R, (2007) EL factor confianza. El valor que lo cambia todo, Ed. Paidos.2007.
Drucker. P, (1986), La innovación y el empresario innovador, Ed. Edasa, Barcelona.
DECLARACION DE INDEPENDENCIA DE ESTADOS UNIDOS. Disponible en
https://www.redalyc.org/pdf/4096/409634344005.pdf
Essawi, M, (2012) "El modelo de confrontación de valor", International Leadership Journal, vol4, nº 2.
Essawi, M y Tilchin, O, (2013) "A mode of knowledge management cultural change", American Journal of Industrial and Business Management. 03 (1), 467-471 Espinosa, J.C; Contreras, F y Barbosa, D (2015) "Prácticas de liderazgo y su relación con la cultura en un grupo de países latinoamericanos", Escuela de Administración, Universidad del Rosario. Colombia. Disponible en
https://revistas.usantotomas.edu.co/index.php/diversitas/article/view/2682 Fenwick, M, (2014) The Change Factor, Ed. The Change Factor Books.
Fernandez Ferrears, F.J, (2020) "Liderazgo y gestion de las personas en la Sociedad del conocimiento", Disponible en
https://www.mincotur.gob.es/Publicaciones/Publicacionesperiodicas/Econo miaIndustrial/RevistaEconomiaIndustrial/407/FERNANDEZ%20FERRERA S.pdf
Fry, L.W, (2003) "Towards a theory of Spiritual Leadership", The Leadership Quarterly,14,693-727.
Gerstner, C.R y Day, D.V, (1994) "Cross-cultural comparision of leadership prototypes!", Leadership Quarterly, 5(2), 121-134.
Gonzalez-Roma, V y Peiró, J.M, (1999) "Clima en las organizaciones laborales y en los equipos de trabajo", Revista Psicología General Aplicada.Revista de la Federación Española de Asociaciones de Psicólogos, vol 54, nº 2-3, pp 266- 285.
Goleman, D, (1996) Inteligencia emocional, Ed. Kairos, Barcelona.
Goleman,D; Boyaztis,R y Ackee (2003) The new leaders: Transforming the Art of Leadership, Ed. Time Warner Books UK.
House, R.J, (1971) "A path goal theory of leader effectiveness", Administrative science quarterly, 321-339.1971.
House, R. J y Aditya, R. N, (1997) "The Social Scientific Study of Leadership. Quo Vadis?" Journal Management, 23, pp 409-473. Disponible en http://dx.doi/org/10.1177
House, R.J; Javidan, M; Dorfman, P.W, (2001) "Project GLOBE: An introduction",
Applied Psychology: An introduction,50 (4), 489-505.
House, R. J., Javidan, M., Hanges, P.J y Dorfman, P.W, (2007) "Understanding cultures and implicit leadership theories across the globe. An introduction to project GLOBE", Journal of World Business, 37, pp 3-10.
Hunt, G.J. (1991) "Leadership: A new Synthesis", SAGE Publications,inc.
Javidan, M (2008) "What is Global Mindset? Why is important?", Annual Roundtables of Contemporary Research and Practice. Regent University.
Jhonson, G y Scholes, K, (2003) Dirección estratégica. Prentice Hall, Madrid. Kotter, J. (1992) Una fuerza para el cambio. Ed. Diaz de Santos, S.A, Madrid. Kouces, J.M y Posner, B. Z, (2018) El desafío del liderazgo, Ed. Reverte, Madrid. Lagarcha-Martines, C y Sierra-Minguez, M, (2012), "¿Necesita poder el líder?",
Regent University. Revista de Estudios Avanzados de Liderazgo, Vol nº 1, enero-junio.
Lufhans, F.,y Avolio, B.J. (2003). "Authentic Leadership: A positive development approach". Disponible en http://img2.timg.co.il/forums/3/9e0b9ff6-2b3b- 4766-8ea0-c55a7cefe068.pdf
Metcalfe, L, (1993) "Public Management: from imitation to innovation", en Jan Kooiman (ed), Modern Governance, London:Sage
Nonaka, I y Takeuchi, (1995) "The Knowledge-creating Company", Oxford University Press, New York.
OECD (1996) "La Formacion de patrimonio y el escape de la pobreza: Un nuevo debate sobre la politica del Bienestar Social", Disponible en https://www.oecd-ilibrary.org/development/la-formacion-de-patrimonio-y-el- escape-de-la-pobreza_9789264065413-es
O´Toole,J. (1997) El Liderazgo Del Cambio, Prentice Hall & IBD.
O´Toole, L, (2005) "Las implicaciones para la democracia de una burocracia en red", en A. Cerillo i Martinez (ed), La Gobernanza hoy: 10 textos de referencia. Madrid: INAP.
Pasher, E y Ronnen, T, (2011) The Complete Guide to Knowledge Management- A Strategic Plan to Leverage your Company´s Intelectual Capital.
Huboken,N.J:John Wisley &Sons , Disponible en http://dx.doi.org/10.1002/9781118983782
Peterson, D.B y Dee Hicks, M, (2007) El Líder como orientador, (Spanish Edition), Ed. Personnel Decisions International.
Peterson, M.F y Hunt, J.G, (1997) "International perspectives on international leadership", Leadership Quarterly, 8(3), pp 201-232.
Pless, N., Maak, T. y Wadman, D.A. (2012) "Different Approachs Towards Doing the Right Thing: Making the Responsibility of Leaders". Academic of Management Perspectives, 26 (4), 51-65.
Remacha, M. (2016) "Liderazgo Responsable. El papel del directivo en el impulso de la R.S.C", IESE Business School. Universidad de Navarra. Cátedra "la Caixa" de Responsabilidad Social de la Empresa y Gobierno Corporativo, nº 30.
Rhoades, C.P, (1996) "The new Governance: Governing without Government",
Political Studies (1996) XLIV.
Rhoades, A; Covey, R.S y Stepherson, N, (2011) Construido sobre valores.
Creando una cultura envidiable que supera a la competencia, Jossey- Bass, San Francisco.
Schein, E, (1980) Psicología de la Organización, Ed. Prentice Hall Internacional. Senge, P, (1993) La quinta disciplina, Granica, Barcelona.
UNESCO (2006) "Informe 2006. La alfabetización, un factor vital".
Uhl-Bien, M., Marion, R., y McKelvey, B, (2007) "Complexity leadership theory: Shifting leadership from the industrial age to the knowledge era", The leadership quarterly, 18 (4), pp 298-318.
Walumba, F.O., Avolio, B.J., Gardner, W.L., Wernsing, T.S, y Peterson, S.L, (2008) "Authentic leadership: Development and validation of a theory- based measure", Journal of Management,34 (1), pp 89-126.
World Economic Forum Annual Meeting 2015, (2015) The Global Gender Gap. Report 2015, Ed. Word Economic Forum. Switzerland. Disponible en https://www.weforum.org/events/world-economic-forum-annual-meeting-2015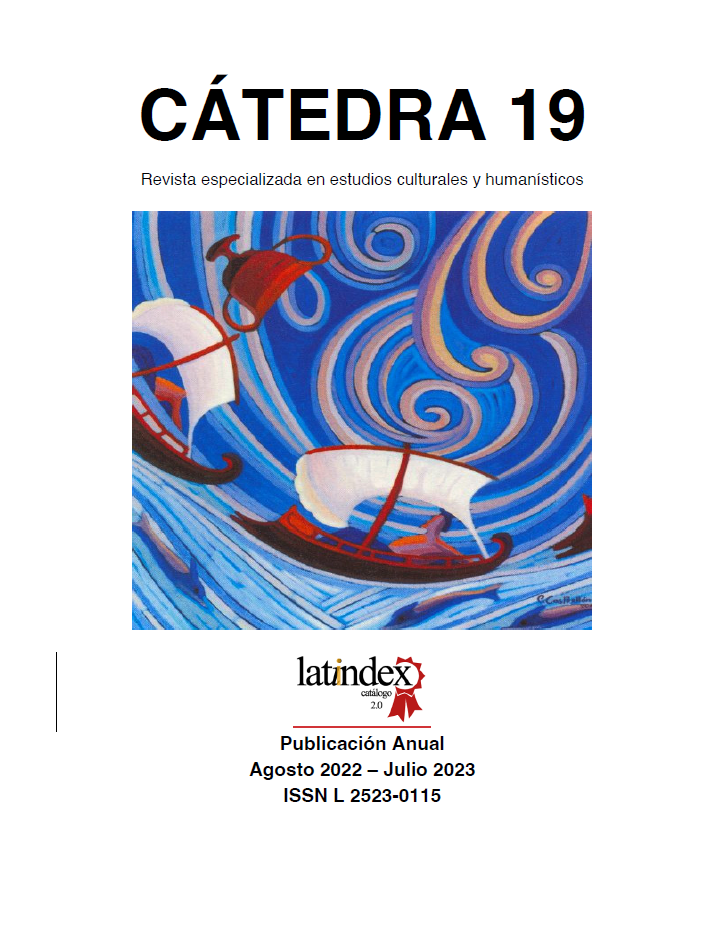 Descargas
Cómo citar
Villace Fernández, C. (2022). LIDERAZGOS, CULTURA Y VALORES EN LAS UNIVERSIDADES. Cátedra, (19), 85–112. Recuperado a partir de https://revistas.up.ac.pa/index.php/catedra/article/view/2970
Licencia

Este obra está bajo una licencia de Creative Commons Reconocimiento-NoComercial-CompartirIgual 4.0 Internacional.