SISMOTECTÓNICA DEL OCCIDENTE DE LA PROVINCIA DE CHIRIQUÍ A PARTIR DE DATOS DE UNA RED SISMOLOGICA LOCAL
Palabras clave:
Sismos, tectónica, red sísmica, Chiriquí Occidente
Resumen
En este estudio se han relocalizado eventos registrados en la zona fronteriza de Panamá y Costa Rica, registrados por una nueva red sismológica local: ChiriNet, de mayo a noviembre de 2018. A partir de estos datos se levantó un catálogo de eventos ocurridos en la región occidental de la República de Panamá, adyacente al punto triple de contacto entre las placas de Nazca, Caribe y Coco. A partir de las polaridades de las ondas P, se calcularon los mecanismos de los sismos registrados por mayor número de estaciones.  Posteriormente, se correlacionó la distribución espacial de los epicentros con fallas previamente cartografiadas dentro de los límites de la región.
Se confirma que esta es una zona de una gran actividad sísmica y algunos de los alineamientos de epicentros observados, sugieren la existencia de fallas no reconocidas anteriormente. Es importante mejorar el monitoreo sismológico en esta región de Panamá para contribuir a una mejor compresión de su sismo tectónica
Descargas
La descarga de datos todavía no está disponible.
Citas
Aki, K. y Richards, K. P., (2005). Quantitative seismology, theory and methods. Second Edition, W. H. Freeman, San Francisco, Estados Unidos de America:.
Arroyo, I., y L. Linkimer (2021). Geometría de la zona sismogénica interplaca en el sureste de Costa Rica a la luz de la secuencia sísmica de golfito del 2018. Geofísica Internacional 60, 51-75
Bourke, J., V. Levin, L. Linkimer, y I. Arroyo (2020). A Recent Tear in Subducting Plate Explains Seismicity and Upper Mantle Structure of Southern Costa Rica. Geochemistry, Geophysics, Geosystems, Volumen 21, https://doi.org/10.1029/2020GC009300
Camacho Astigarrabia, E., (2009). Sismicidad de las Tierras Altas de Chiriquí. Tecnociencia, 11. 119-130.
Camacho, E., Novelo-Casanova, D. A., Tapia, A. & Rodriguez, A., (2008). Seismicity at Baru Volcano, Western Panama, Panama. American Geophysical Union, Fall Meeting 2008, abstract id. V51C-2051.
Corrigan, J.D. P. Mann, J.C. Ingle (1990). Forearc response to subduction of the Cocos Ridge, Panama-Costa Rica. Geol Soc. Am. Bull. 102(5):628-652.doi:10.1130/0016-7606(1990)102<0628: FRTSOT >2.3.CO;2
Cowan, H.A. L. Sánchez, E. Camacho, J. Palacios, A. Tapia, D. Irving, D. Esquivel & C. Lindholm. (1996). Seismicity and tectonics of Western Panama from new portable seismic array data, Final Report to the Research Council of Norway, NTNF-NORSAR, Kjeller, Norway. 23 págs.
Cowan, H., Machette Corrigan, v., Halle, K. & Dart, R., (1998). Map of Quaternary Faults and Folds of Panama and its Offshore Regions. U.S. Geological Survey Open-File Report, pp. 98-779.
de Boer, J., Defant, M., Stewart, R. & al, e., 1988. Quaternary calc-alkaline volcanism in western Panama; regional variation and implication for the plate tectonic framework. J. South Am. Earth Sci. 1, 275-293.
Havskov, J., y L. Ottemoller (1999). SEISAN, an earthquake analysis software. Seismo. Res. Lett. 70, 532–534. https://doi.org/10.1785/gssrl.70.5.532
Heil, D., 1988. Response of an accretionary prism to transform ridge collision, south of Panama. Tesis de Maestría. University of California at Santa Cruz., Santa Cruz(California), 176 págs.
MooreG.F.andK.L.Sender (1996). Fracture zone collision along the South Panama margin. Geol. Soc. Am., Special Paper 295, 201-212.
Morel, K. D., D. M.FisherT y T. W.Gardner (2008). Inner forearc response to subduction of the Panama Fracture Zone, southern Central America. Earth Plan. Sci. Lett. 265, 82-95.
Muller, R. B. y T. C. W. Landgrebe (2012). The link between great earthquakes and subduction of oceanic fracture zones. Solid Earth, 3, 447–465, 2012, https://doi.org/10.5194/se-3-447-2012.

Pérez, G. y A. Rodríguez (2018). Citizen Scientists Using a Low-cost Raspberry Shake Network Outperform Seiscomp3 Program. Poster presentado en el IRIS Seismic Instrumentation Technology Symposium, Tucson Marriott University Park, October 30-31, Tucson, AZ, USA.

Sagel, D (2015). Tomografía sísmica de Panamá: Provincia de Chiriquí: Volcán Barú, Trabajo de fin de Master, Universidad de Granada, España, 49 págs.
Sherrod, D., J. W. Vallance, A. Tapia Espinoza y J. P. McGeehin (2008). Volcán Barú: Eruptive History and Volcano-Hazards Assessment, U.S. Geological Survey Open-File Report 2007-1401, Version 1. in Central America since 1900. Bull. Seismol Soc. Am. 83, 1115–1142.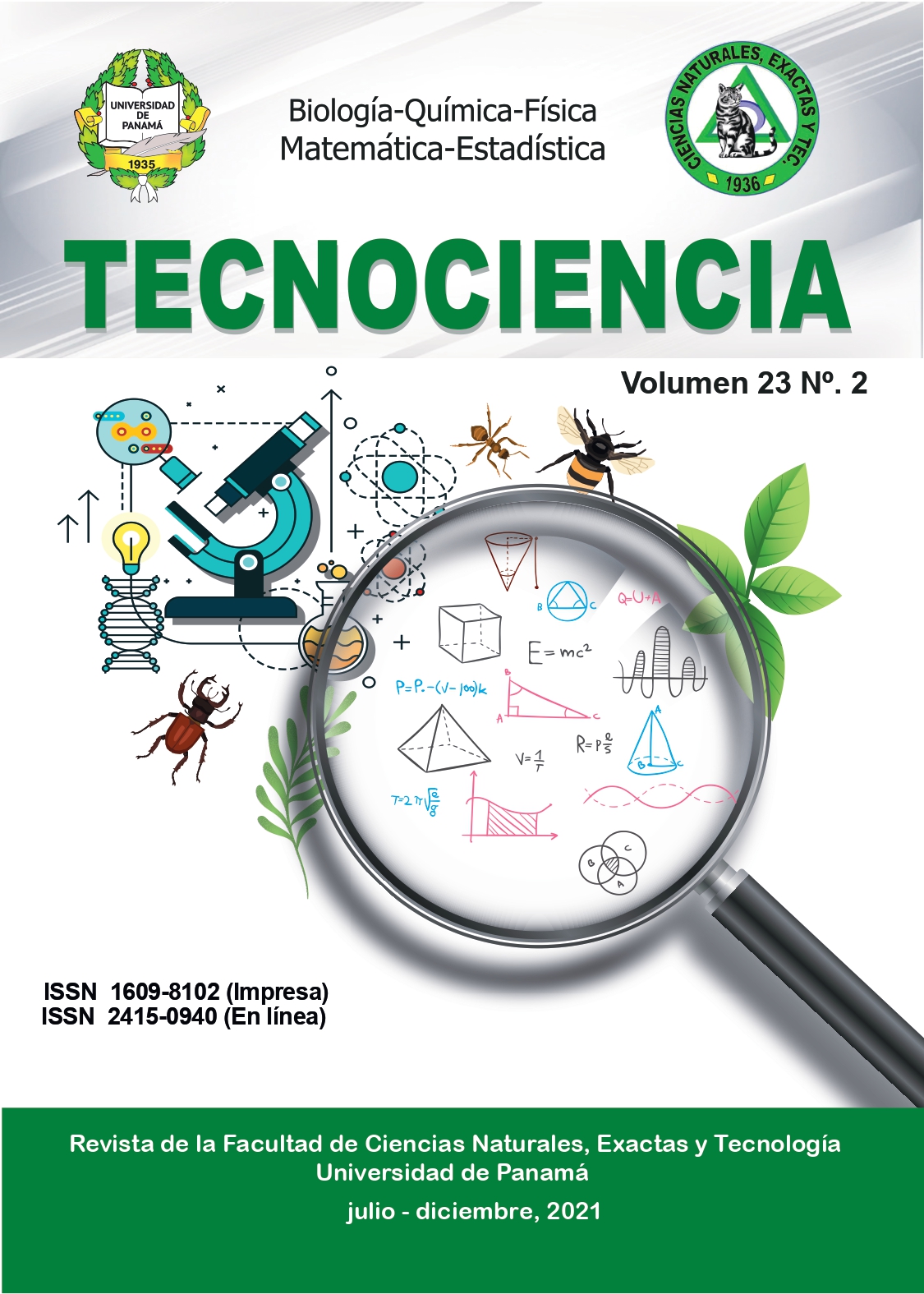 Cómo citar
Vasquez Guardia, F., Camacho Astigarrabía, E. y Rodríguez, A. (2021) SISMOTECTÓNICA DEL OCCIDENTE DE LA PROVINCIA DE CHIRIQUÍ A PARTIR DE DATOS DE UNA RED SISMOLOGICA LOCAL, Tecnociencia, 23(2), pp. 72-92. Disponible en: https://revistas.up.ac.pa/index.php/tecnociencia/article/view/2269 (Accedido: 19septiembre2021).

Este obra está bajo una licencia de Creative Commons Reconocimiento-NoComercial-CompartirIgual 4.0 Internacional.