UTILIDAD DE LA PCR RECURSIVA PARA INSERTAR UN APTAMER DE ALTA AFINIDAD EN EL ESPACIADOR MENOR DE CALMODULINA de Trypanosoma cruzi.
Palabras clave:
Trypanosoma cuzi, Aptámero, PCR recursiva
Resumen
Trypanosoma cruzi es el parásito protozoario causante de la enfermedad de Chagas, una enfermedad endémica en Panamá. En este parásito, la regulación de la expresión génica es principalmente un proceso postranscripcional. Se ha sugerido que las proteínas de unión al ARN tienen un papel clave en esta regulación génica. La calmodulina es una proteína sensora de calcio altamente conservada, codificada por tres genes separados por dos espaciadores intergénicos (espaciador mayor y menor). El estudio de las bases moleculares que llevaron a las interacciones ARN-proteínas en T. cruzi podría contribuir a comprender la biología del parásito para desarrollar estrategias novedosas para el control de enfermedades. Desarrollamos una metodología basada en una PCR recursiva para insertar un aptámero de alta afinidad de estreptavidina en la secuencia del espaciador menor, como base para el desarrollo de un sistema de captura de proteínas. La secuencia completa del locus de calmodulina se descargó de GenBank (AAHK01001263.1). La secuencia del aptámero reportadas en publicaciones anteriores (83 pb) se manipuló para el diseño del cebador. Las secuencias se editaron con el software bioinformático UGENE. La secuencia del espaciador menor de calmodulina (CMS) se fragmentó en dos regiones. Los cebadores se diseñaron para flanquear las dos regiones, cada uno con los oligonucleótidos internos directo / inverso unidos a secuencias de medio aptámero. La PCR recursiva final pudo amplificar el espaciador menor de calmodulina incorporando el aptámero. La secuencia fue confirmada por secuenciación de Sanger. La PCR recursiva representa una herramienta útil para insertar secuencias de alta afinidad como aptámeros para estudiar interacciones proteína-ARN específicas.
Descargas
La descarga de datos todavía no está disponible.
Citas
Benaim G, Losada S, Gadelha FR, Docampo R 1991. A calmodulin-activated (Ca(2+)- Mg2+)-ATPase is involved in Ca2+ transport by plasma membrane vesicles from Trypanosoma cruzi. Biochem J. 280 (Pt 3: 715–720.

Bern C., Montgomery S., Herwaldt B., Rassi, A., Marin-Neto, J., Dantas, R., Moore, A. C. 2007. Evaluation and Treatment of Chagas Disease in the United States. JAMA, 298(18), 2171. doi:10.1001/jama.298.18.2171

Brandao A, Fernandes O 2006. Trypanosoma cruzi: Mutations in the 3' untranslated region of calmodulin gene are specific for lineages T. cruzi I, T. cruzi II, and the Zymodeme III isolates. Exp Parasitol 112: 247–252.

Camargo, E.P. 1964. Grawth and differentialion in Trypanosoma cmii, 1. Origin ob metacyciic trypanosomes o liquidmedia. Revine. Mcd. Troo. Sao Paulo fi: 93-100.

Cassola, A., Frasch, A. 2009. An RNA recognition motif mediates the nucleocytoplasmic transport of a Trypanosome RNA-binding protein J. Biol. Chem. 284 (50): 35015-35028. doi: 10.1074/jbc.M109.031633
Chagas C. 1909. Nova tripanozomiaze humana. Estudos sobre a morfolojia e o ciclo evolutivo de Schizotrypanum cruzi n. gen., n. sp.,ajente etiolojico de nova entidade morbida do homen. Mem Inst Oswaldo Cruz 1, 159–218.

Cheung WY 1980. Calmodulin plays a pivotal role in cellular regulation. Science 207: 19–27. Chung S, Swindle J 1990. Linkage of the calmodulin and ubiquitin loci in Trypanosoma cruzi. Nucleic Acids Res. 18: 4561–4569.

Chung S.-H., & Swindle J. 1990. Linkage of the calmodulin and ubiquitin loci in Trypanosoma cruzi. Nucleic Acids Research, 18(15), 4561–4569. doi:10.1093/nar/18.15.4561.

Clayton CE 2002. Life without transcriptional control? From fly to man and back again. EMBO J. 21: 1881–1888.

Clayton CE 2014. Networks of gene expression regulation in Trypanosoma brucei. Mol. Biochem. Parasitol. 195: 96–106.

Crowther G., Shanmugam D., Carmona S., Doyle M., Hertz-Fowler C., Berriman M., 2010. Identification of attractive drug targets in neglected-disease pathogens using an in silico approach. PLoS Negl Trop Dis; 4(8):e804. https://doi.org/10.1371/journal.pntd.0000804 PMID: 20808766; PubMed Central PMCID: PMCPMC2927427.

D'Orso, I., De Gaudenzi J. & Frasch, A. C. C. 2003. RNA-binding proteins and mRNA turnover in trypanosomes. Trends in Parasitology, 19(4), 151–155. doi:10.1016/s1471-4922(03)00035-7.

Das A., Banday M., Fisher M. A., Chang, Y.-J., Rosenfeld J., & Bellofatto, V. 2017. An essential domain of an early-diverged RNA polymerase II functions to accurately decode a primitive chromatin landscape. Nucleic Acids Research, 45(13), 7886–7896. doi:10.1093/nar/gkx486.

De Gaudenzi J., Noe G., Campo V., Frasch A. & Cassola A. 2011. Gene expression regulation in trypanosomatids. Essays Biochem 51, 31–46.

De Gaudenzi JG De, D'Orso I, Frasch ACC 2003. RNA recognition motif-type RNAbinding proteins in Trypanosoma cruzi form a family involved in the interaction with specific transcripts in vivo. J. Biol. Chem. 278: 18884–18894.
El-Sayed NM, Myler PJ, Bartholomeu DC et al 2005. The genome sequence of Trypanosoma cruzi, etiologic agent of Chagas disease. Science 309: 409–415.

Liang X.H., Haritan A., Uliel S. and Michaeli S. 2003. Trans and cis splicing in trypanosomatids: mechanism, factors, and regulation. Eukaryot. Cell 2, 830–840.

Ling, M. M., & Robinson, B. H. (1997). Approaches to DNA Mutagenesis: An Overview. Analytical Biochemistry, 254(2), 157–178. doi:10.1006/abio.1997.2428.

Leppek, K., & Stoecklin, G. (2014). An optimized streptavidin-binding RNA aptamer for purification of ribonucleoprotein complexes identifies novel ARE-binding proteins. Nucleic Acids Research, 42(2). https://doi.org/10.1093/nar/gkt956.

Okonechnikov K, Golosova O, Fursov M, Varlamov A, Vaskin Y, Efremov I, German Grehov OG, Kandrov D, Rasputin K, Syabro M, Tleukenov T 2012. Unipro UGENE: A unified bioinformatics toolkit. Bioinformatics 28: 1166–1167.

Onyekwelu, K. 2019. Life Cycle of Trypanosoma cruzi in the Invertebrate and the Vertebrate Hosts. www.intechopen.com. Obtenido 11, 2019, de https://www.intechopen.com/online-first/life-cycle-of-trypanosoma-cruzi-in-the-invertebrate-and-the-vertebrate-hosts

Romaniuk, M. A., Cervini, G., & Cassola, A. 2016. Regulation of RNA binding proteins in trypanosomatid protozoan parasites. World journal of biological chemistry, 7(1), 146–157. doi:10.4331/wjbc.v7.i1.146.

Ruiz, E., Ramírez, C. A., Nocua, P., Requena, J. M., & Puerta, C. J. (2018). Identificación de proteínas reguladoras de la expresión génica en tripanosomátidos. Revista De La Academia Colombiana De Ciencias Exactas, Físicas Y Naturales, 42(165), 306-318. https://doi.org/10.18257/raccefyn.671

Sabalette K. B., Romaniuk M. A., Noé G., Cassola A., Campo V. A., & De Gaudenzi, J. G. 2019. The RNA-binding protein TcUBP1 up-regulates an RNA regulon for a cell surface-associated Trypanosoma cruzi glycoprotein and promotes parasite infectivity. Journal of Biological Chemistry, jbc.RA118.007123. doi:10.1074/jbc.ra118.007123.

Souza CF, Carneiro AB, Silveira AB, Laranja GA, Silva-Neto MA, Costa SC, Paes MC 2009. Heme-induced Trypanosoma cruzi proliferation is mediated by CaM kinase II. Biochem Biophys Res Commun 390: 541–546.

Stuart, K.; Brun, R.; Croft, S.; Fairlamb, A.; Gürtler, R. E.; McKerrow, J.; Reed, S.; Tarleton, R. J Clin. Invest. 2008, 118 (4), 1301–1310.

Srisawat, C., & Engelke, D. R. (2001). Streptavidin aptamers: Affinity tags for the study of RNAs and ribonucleoproteins. Rna, 7(4), 632–641. https://doi.org/10.1017/S135583820100245X

Tzizik, D. M., & Borchardt, R. A. (2018). Chagas disease. Journal of the American Academy of Physician Assistants, 31(12), 30–33. doi:10.1097/01.jaa.0000547749.92933.6a

Zhivotovsky B, Orrenius S 2011. Calcium and cell death mechanisms: A perspective from the cell death community. Cell Calcium 50: 2.

Zuker, M. (2003). Mfold web server for nucleic acid folding and hybridization prediction. Nucleic Acids Research, 31(13), 3406–3415. doi:10.1093/nar/gkg595.

Walker, S. C., Scott, F. H., Srisawat, C., & Engelke, D. R. (2008). RNA Affinity Tags for the Rapid Purification and Investigation of RNAs and RNA–Protein Complexes. RNA-Protein Interaction Protocols, 23–40. doi:10.1007/978-1-60327-475-3_3.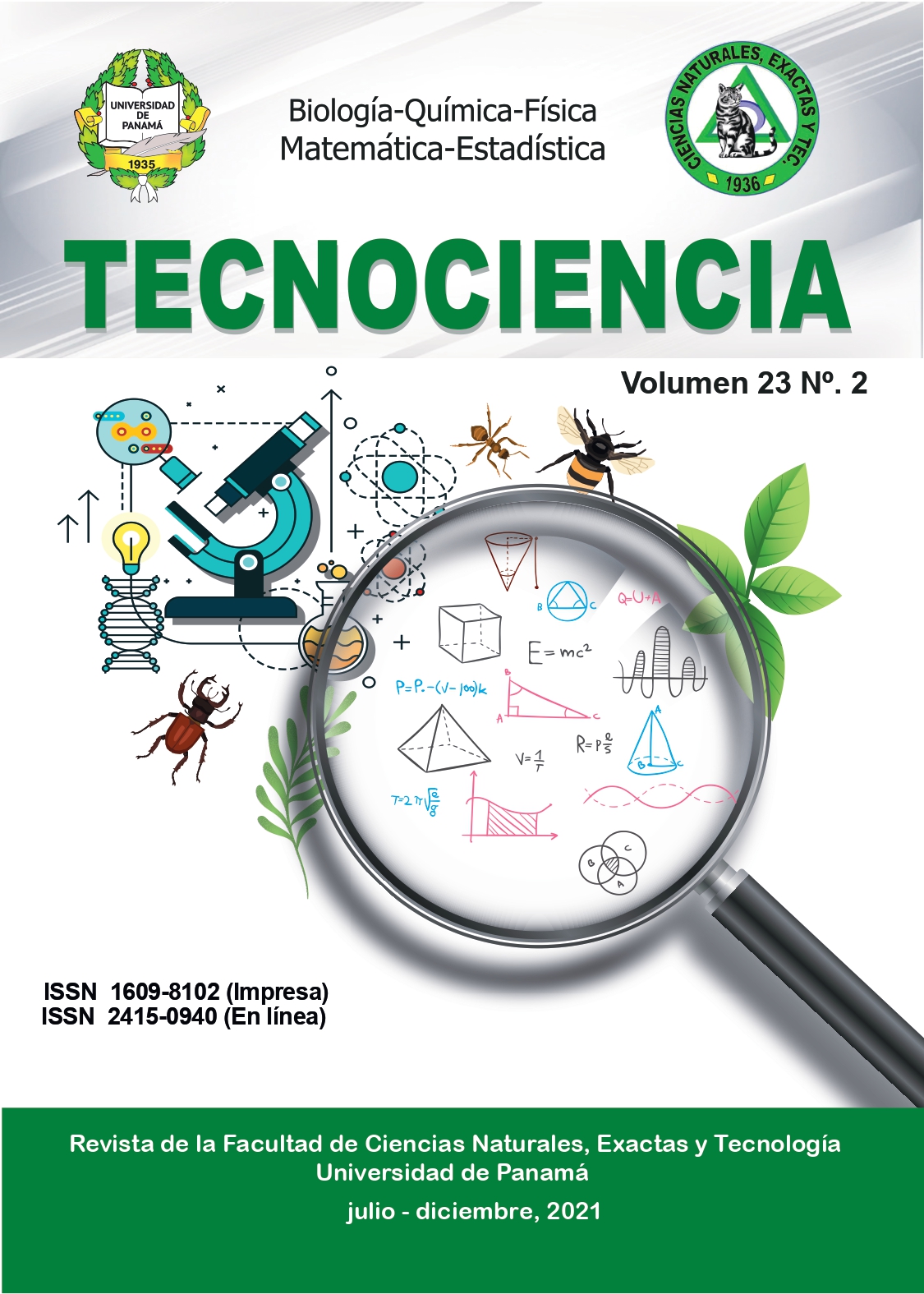 Cómo citar
Jaén, L., Calzada, J., Brandão, A. y Samudio, F. (2021) «UTILIDAD DE LA PCR RECURSIVA PARA INSERTAR UN APTAMER DE ALTA AFINIDAD EN EL ESPACIADOR MENOR DE CALMODULINA de Trypanosoma cruzi»., Tecnociencia, 23(2), pp. 257-272. Disponible en: https://revistas.up.ac.pa/index.php/tecnociencia/article/view/2281 (Accedido: 19septiembre2021).

Este obra está bajo una licencia de Creative Commons Reconocimiento-NoComercial-CompartirIgual 4.0 Internacional.